Dixon at Dragonfly
---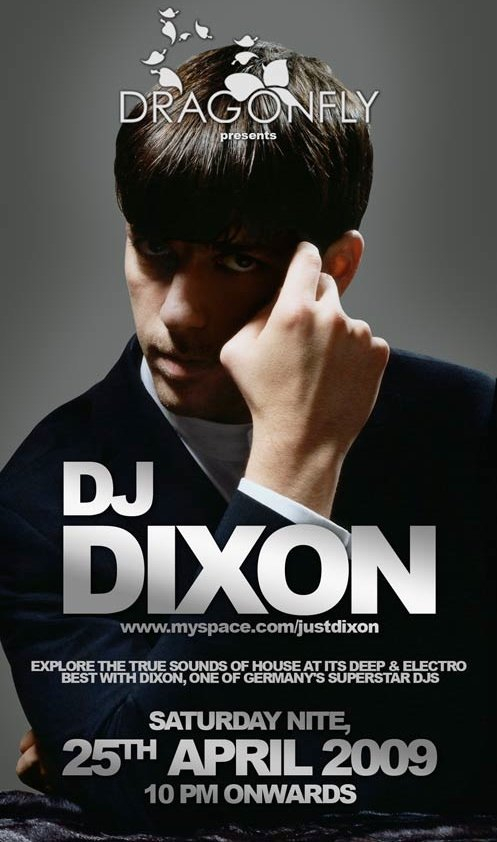 Line-up:
DIXON
supports:
DJ Joyo
DJ AAy
about DIXON
http://www.myspace.com/justdixon
For those of you who have already heard about Steffen "Dixon" Berkhahn, 3 words are generally associated with his name : DJ, House and Deep. Take them, mix them and shake'em, whatever option you take, the equation is there. Dixon is for the last 10 years one of the more genuine & purest representatives of what is still called House Music. Yes, a lot of things were already said historically, philosophically and of course musically about House, but very few people have been true ambassadors of this legacy, especially in times where the word only was diluted by mass media and music charlatans all over.
Dixon has always been and played House since his mid nineties residencies in Berlin. His meeting in 98 with Jazzanova is already part of the legend now. He is also the one that introduced the music of his friends Frank Wiedemann and Kristian Beyer (known today as AME) to Jazzanova and offered to the Sonar Kollektiv the discovery of one of their best selling artists.
Knowing his character and the strong vision, it was just a question of time before he would translate this into his own project platform today called Innervisions. First in 2005 by re-establishing a true house vibe in Berlin with his Innercity parties in a building of the Alexander Platz, today considered as the best night of the city, Dixon followed shortly last summer with a series of releases on Sonar Kollektiv representing the sound of this night.
But as any clever strategist, Dixon let the dust of the fresh hype created in the last few years come down and prepared a powerful return with his upcoming release after his mind-blowing "Body Language vol. 4" compilation on GET PHYSICAL label. By proposing an unprecedented collaboration between Âme, Henrik Schwarz, Derrick Carter and himself, "Where We At" released as a double header 2 version twelve, is a pretty sure shot to hammer the label in everyone's consciousness.
http://www.residentadvisor.net/event-detail.aspx?id=94205
http://www.new.facebook.com/event.php?eid=79275135776&ref=mf