[Share] Gleam Of Force
---
permisi gan ane mau share game nih..
Quote:
Character
Quote:
Spoiler for Kanae Kinoshita
The main heroine of Gleam of Force.
She nearly lost her life due to a car accident when she was little, but was saved thanks to her older sister. Though she managed to live, some of her memories as well as her cherished older sister were lost. As time passed her emotional scars healed and she returned to a peaceful everyday life.
However, one day she received a pair of gloves sent by the sibling she believed to be dead. Realizing the message that her sister was alive somewhere, she put on the gloves and entered Gleam of Force.
Birthday: 8/18
Blood Type: Type O
Height: 152cm
Hobby: Walking through town
Specialty: Can make friends with anybody
Likes: Angel cream donuts
Hates: Nothing in particular
Spoiler for Futaba Date
Self-proclaimed rival of Kanae.
Seeing Kanae set her mind to something, she also participated in Gleam of Force. At first, she received trouble because of her unorthodox technique, so she doesn't use some parts of her gymnastics anymore. She now plans to establish a "Girls' Rhythmic Gymnastics Grappling Club", but regrettably, it doesn't seem to be catching on.
Birthday: 5/24
Blood Type: Type A
Height: 157cm
Hobby: Collecting rare books
Specialty: Gathering information and investigating people
Likes: Dorayaki
Hates: Sketchy people
Spoiler for Papeko Imagawa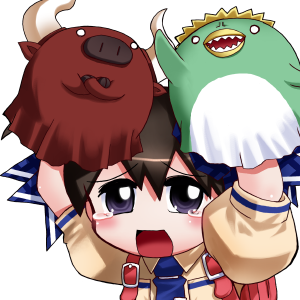 A poor travelling performer.
Presently she works and stays at an inn for her living accomodations. In order to become famous, she aims to emerge victorious in Gleam of Force. However, it's clear that she picked the wrong field to compete in.
Attached to her hands are a bull and kappa. Though they resemble puppets, they're actually parasitic alien lifeforms. By manipulating the host's consciousness, they have the ability to assume the form of puppets. In other words, the right half of her body is taken over by the bull, and the left half by the kappa!
Birthday: 6/12
Blood Type: Mosaic Type AB
Height: 126cm
Hobby: Soliloquy
Specialty: Can remain still and quiet indefinitely
Likes: Curry rice (But not beef curry)
Hates: Scary people
Spoiler for Ammy Akechi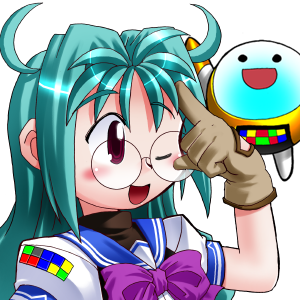 Self-proclaimed talented detective of mystery.
The robot at her side is her attendant Miyuki Prodeus. Inside her mind she has solved such difficult cases as the Hinamizawa Syndrome and the Rokkenjima mass murder. "Prodeus! Gather everyone in the hall!"
Taking pride in her space boxing, in a way she is a genius martial artist. This time, following a clue from her long lost mother, she comes to the town where Gleam of Force is held.
Birthday: 7/2
Blood Type: Unknown
Height: 164cm
Hobby: Human observation
Specialty: Can accurately guess an object's material just by looking
Likes: Canned coffee
Hates: Garlic
Spoiler for Minami Maeda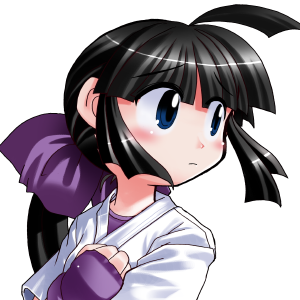 The only daughter of the Shinto shrine where Kanae is freeloading. Though they're unrelated, she assumes the role of Kanae's elder sister. Though she appears to be slender at first glance, she is an expert at karate and successor of a hidden technique. In contrary to her figure, her fighting style is extremely stolid. By using peculiar breathing techniques at certain intervals, she creates sublime power within her fist.
Birthday: 3/3
Blood Type: AB
Height: 166cm
Hobby: Garden Cleaning
Specialty: Sewing
Likes: Konnyaku Jelly
Hates: Harsh things in general
Spoiler for Makoto Sanada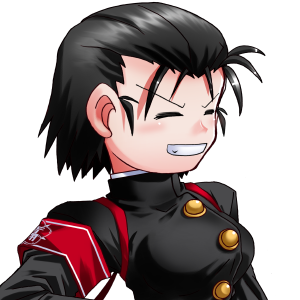 Head of Ontou High School's 13th generation of cheerleaders.
She has the ability and charisma to support 666 members. In order to find a man (woman) worthy of cheering on, she participates in the current Gleam of Force using her stamina and guts to boast overwhelming defensive power. However, to this day she has yet to find a man (woman) to meet her expectations.
Birthday: 5/7
Blood Type: Type O
Height: 182cm
Hobby: Shougi, Bathing
Specialty: Can sleep anywhere
Likes: Green tea ice cream
Hates: Projectile weaponry
Spoiler for Ashita tokugawa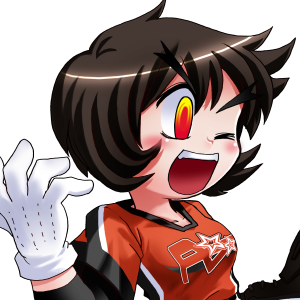 She is an unfortunate person who happened to be near the car crash Kanae was involved in several years ago. At the brink of the explosion she received what was essentially a fatal wound, but survived miraculously. Although her eyesight has suffered horribly, it's not so bad that she can't manage her daily life. Currently she is searching for soul sisters in order to establish a softball team.
Birthday: 4/20
Blood Type: Type B
Height: 142cm
Hobby: Anime appreciation and reading (Baseball related)
Specialty: Can walk unphased even in the dark
Likes: Breaded pork on rice
Hates: The adult lifestyle
Spoiler for Yukie Chosokaba
Idol and wrestler.
With an unequalled love for cute things, she especially has a passion for cute girls. However this doesn't mean she's only interested in girls, rather that she also likes girls.
She lost her relatives due to complications when she was young and was entrusted to local facilities. There she was blessed with a good environment where she matured wonderfully mentally and physically. To repay their kindness she strives with her manager Tomoko to get promoted in her hometown.
Birthday: 9/12
Blood Type: AB
Height: 158cm
Hobby: Collects figurines of cute girls
Specialty: Can make juice with just her hands
Likes: Cute girls
Hates: Girls that aren't cute
Spoiler for Madoi Takeda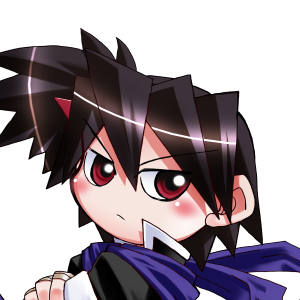 Descendant of a clan of shinobi that lived in the age of darkness and shadow. At only ten years old her genius ability was recognized as the greatest within the history of the clan.
There's a deep connection regarding Ruki Uesugi. To exact her revenge on Ruki, she is determined to participate in Gleam of Force.
Birthday: 4/12
Blood Type: Type B
Height: 128cm
Hobby: Raising reptiles
Specialty: Covert Activity
Likes: Impressive stories, Chikuwa
Hates: Impressed women, Iron dumbbells
Spoiler for Ruki Uesugi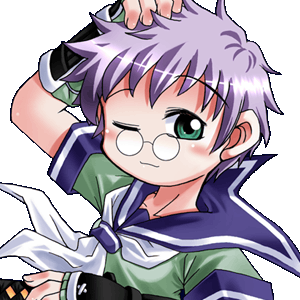 Young master of the Kihoushinzanryuu sword drawing technique.
Currently the strongest GOF fighter with two consecutive victories, it is believed that she will emerge victorious this year as well. She participates in Gleam of Force in order to pursue the widely renowned former champion, Negai Kinoshita. Using her hand as a swift sword, both the sharpness and range of her attacks are quite deadly.
Birthday: 3/13
Blood Type: Type A
Height: 165cm
Hobby: Spacing out
Specialty: Always wins at rock paper scissors
Likes: Roll Cake
Hates: Hurried people
Spoiler for Negai Kinoshita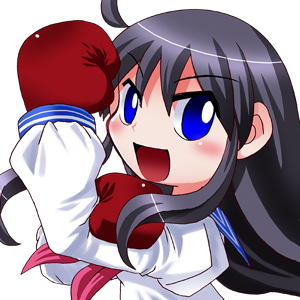 The elder sister of Kanae who went missing after an accident three years ago.
A hidden character, she is unparallelled throughout the history of the game as the strongest GoF champion. Where she was or what she was doing within the past three years is completely unknown. Though she seems to have been caught up in something complex, if you ask her about it she will simply brush it aside halfheartedly.
Birthday: 2/6
Blood Type: Type B
Height: 164cm
Hobby: Strolling, wandering
Specialty: Can laugh anything off
Likes: Golden chocolate donuts
Hates: Intricate work
Spoiler for Katsuko Hosokawa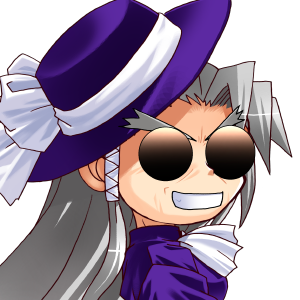 An old lady.
She has been around for many a GoF, and seen many a fight in her many a years. Now she loses many a times in her many a tries to many a match. She pimps out the gof girls and her umbrella is really a tommy gun. She can pimpslap the most dangerous hos and is always out to get that money. She also has Kanae fight huge iron balls that are immune to infights and roll over the meek squishing them into owchies. After that there is a magical sandbag that pops out of nowhere and squishes you. How this sandbag comes and goes so fast is beyond anyone's comprehension. She must have her team of krack hos pulling it. Also she wears glasses to hide the fact that she has no eyes. NO EYESES!
Birthday: ?/??
Blood Type: Guess
Height: 144cm
Hobby: Pimpin ain't easy
Specialty: Making heavy objects fight people
Likes: Money
Hates: Not making money
Unlockable
Spoiler for Unlockable

Practice mod = Use all characters in vs mode
Arcade mode = Clear story mode
Hidden characters & Extra stages = Clear arcade mode with all characters
Omake = Clear arcade mode with hidden characters
Extra difficulties = ?