۩•• World Rally Championship ••۩
---
FIA WORLD RALLY CHAMPIONSHIP
WRC adalah balapan di mana seorang driver akan di temani oleh co-driver dalam sebuah race. Lintasan yang dilalui berupa aspal, gravel, tarmac, ice.
Spoiler for 'aspal'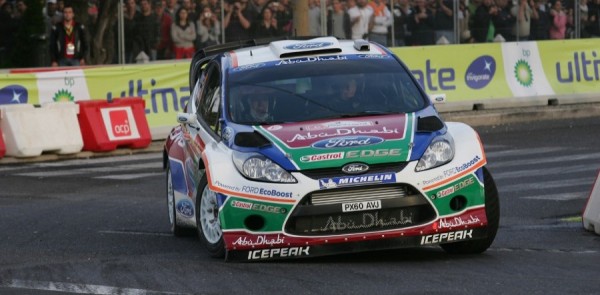 Spoiler for 'gravel'
Spoiler for 'tarmac'
Spoiler for 'ice'
WRC sendiri diberi label the most challenging motorsport competition in the world.
Quote:
Para pembalap dan tim akan berkompetisi di 13 negara
Setiap rally akan dibagi antara 15 sampai 25 spesial stages. Yang dihitung adalah catatan waktu tiap driver pada setiap SS (Special Stages)
Co driver yang duduk di samping pembalap akan membacakan pacenotes untuk memperingatkan pembalap tentang kondisi jalan di depannya
Kelas paling tinggi pada tahapan ini sperti yang kita ketahui yaitu World Rally Championship, yang berdasarkan regulasi tahun lalu menggunakan mesin 4 silinder 2 liter.
Mobil WRC menggunakan mobil yang diproduksi secara masal dengan modifikasi pada bagian mesin, transmisi, suspensi, turbocharge, 4WD yang dapat menghasilkan maksimal 300bhp. Mobil WRC dapat mencapai 100kph dalam 3seconds bergantung pada kondisi jalan yang di laluinya.
Mobil WRC yang tersedia yaitu Ford Fiesta, Mini Cooper, Citroen C4
Quote:
Ada beberapa kelas di bawah WRC sperti SWRC (Super 2000 WRC), PWRC (Production WRC), JWRC (WRC Academy/Junior WRC)
Para pembalap akan datang pada hari Selasa dan Rabu untuk memberi kesempatan kepada driver n co-driver untuk mengenal rute, efek partikel, guncangan, dan lain-lain.
Latihan pada hari Kamis, dan kompetisi akan berlangsung Jumat, Sabtu, Minggu.
Beberapa event terkadang juga terdapat Super Special Stages di mana pembalap akan dilombakan secara Head to Head di sirkuit seperti pada ROC (Race of Champions)
Spoiler for 'super ss'
Spoiler for 'super ss'
Spoiler for 'super ss'
Selain mengecek mobil dan mengganti ban, selama balapan setiap tim di ijinkan menggunakan 4 kru untuk mengoptimalkan mobil. Pada service time bisa ada waktu 10, 30, atau 45 menit tergantung dari event itu sendiri
Bekerja pada tim WRC berarti seorang mekanik harus memberikan yang terbaik kepada tim secara cepat. Dalam sebuah race mekanik mengganti suspensi, dan brake unit dalam 5 menit, gearbox dalam 10 menit.
Setiap tim akan dikenakan penalty jika melewati batas waktu service time dan juga jika terlambat datang di stage starts.
Pada akhir perlombaan setiap pembalap yang menyelesaikan SS dalam waktu tercepat akan menang. Poin akan diberikan kepada 10 pembalap tercepat pertama dengan format 25-18-15-12-10-8-6-4-2-1
Poin yang diberikan untuk konstruktor juga sama seperti format di atas
Co-Driver
Banyak yang tahu siapa itu codriver tapi tidak banyak yang tahu bahasa planet apa yang digunakan oleh co-driver
Sebagai contoh seorang co-driver akan berkata seperti ini
Quote:
Left 3 off camber tightens, into Right 5+ opens tightens, 50, Right 4- tightens don't cut
dan dalam pacenotes dia akan menulis
Quote:
L3 OC > into R5+ 50 >R4- NC
L berarti belokan ke kiri, R untuk belokan ke kanan. Ada angka di belakang bervariasi antara 1-6 dengan penjelasan
Quote:
L1 (Left 1) is the MOST severe turn (often called a switchback or an acute or a hairpin)
L3 means a left turn of a severity of 3; picture a left turn taken at medium speed - about a 90 degree turn
L6 means you can see through the turn and usually you do not even need to lift off of the accelerator.
Dengan itu saja tidak lah cukup untuk seorang co-driver memandu, maka akan ditambahkan kata2
Quote:
OC means Off Camber - the slope of the road is away from the turn
NC means Don't Cut - if you cut onto the inside of the turn you will encounter something bad - a ditch or rock, perhaps.
INTO means one turn is followeed or linked closely with the next turn
TIGHTENS means that the severity of the turn gets worse as you continue in the turn
OPENS means ther severity of the turtn gets easier as you progress through the turn

[youtube]ceQj8DMkd1Y[/youtube]
Calendar