Hikonen Sentai Akibaranger ! [April 2012]
---
hallo..hehe ts nya baru bisa muncul lagi disini..
kemana aja tsnya??
ga penting kok itu ._. suer deh
yg pntg ad beberapa catetan baru yg bisa dikasih disini

Quote:
Meskipun Super Sentai, tapi serial ini bukan untuk konsumsi anak di bawah umur karena berpotensi keras merusak masa depan generasi muda. Jadi bagi para pengunjung thread yang udah punya anak, kalo mau nonton bareng anaknya nonton yang Super Sentai Resmi aja.
TS Tidak bertanggung jawab jika terjadi hal-hal yang tidak diharapkan.
*credit to bro Audrian from idws

*
Quote:
Tokumei Sentai Go-Busters is the official 36th Super Sentai Series, but TOEI decided to launch another Super Sentai series named Hikonin Sentai AkibaRanger (Litteraly : Unofficial Squadron).
This "Unofficial Squadron" is not part of the official line of Super Sentai but is still called a Super Sentai anyway. Consider it an "EX Super Sentai".
AkibaRanger will tell the story of three young people (a boy and two girls according to the picture) being part of an otaku club and living in the new "Electric-Town" Akihabara. They will have to fight a mysterious malevolent entity that swore to conquer Earth with cool gadgets created by a brilliant genius.
The series starts in april 2012 but no actor has been announced or rumored yet.
BANDAI also announced a toyline for this series.
Sumber:
http://www.rangerboard.com/showthread.php?t=152215
Spoiler for simpulan sementara
wew , ini super sentai parody yang sengaja di buat toei sendiri , entah apa tujuannya ,

:
yang jelas ini beda dengan go-buster walaupun mungkin mirip , sekali lagi ini hanya parody

oh ya , super sentai ini sudah bisa dipastikan bertema adult dan seperti yang bisa dilihat dari judul 'akiba' ts rasa bakal agak berbau bau otaku

kita lihat saja konsep yang baru ini april nanti !
nah , mari kita tunggu kabar selanjutnya

Spoiler for pengakuan
gw emang ngopy dari idws dan beberapa kata kata diatas mirip dengan ts di idws

credit to : audrian(idws)
Spoiler for some updates
Quote:
Original Posted By
elfun
►
[SPOILER=more rumor]Bandai's Tamashii Nations had finally revealed the appearance of the aforementioned unofficial Super Sentai, the HikMnin Sentai Akibaranger (Unofficial Sentai Akihabara Rangers)! The show will start airing this April.
HikMnin Sentai Akibaranger follows three protagonists who live in Akihabara's Electric Town among other otaku. When the trio learn that a malevolent entity plans to annihilate their neighborhood, they become warriors to wipe out evil with the help of super gear created by a beautiful and brilliant genius.
HikMnin Sentai Akibaranger
The official website lists several tokusatsu and anime veterans, including director Ryuta Tazaki (Kamen Rider), director/character designer Keiichi Satou (Tiger & Bunny), writer Naruhisa Arakawa (Kamen Rider Kuuga), and composer Kenji Kawai (Ghost in the Shell).
According to current rumors, the Akibaranger's secret base/hideout is a "Sentai Cafe," a Super Sentai version of the popular maid cafe in Japan.
saus
credit to bro elfun

Spoiler for another updates
Quote:
Original Posted By
wide024
►
Moar inpoh
Akibaranger: Taking Sentai Into Greater Heights!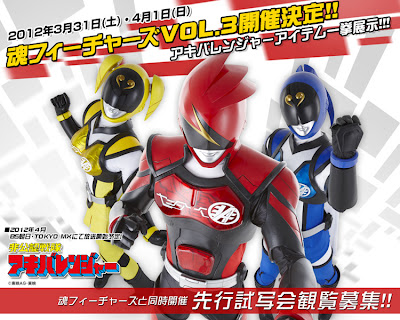 [spoiler=faak]After the revelation of the official Hikonin Sentai Akibaranger (Unofficial Sentai Akibaranger) suits, here are some additional information about this new series! In addition, we have the confirmation for the official toyline of the series and the first pictures of the cast!
Super Sentai shows have a glorious tradition that has been going for 36 years. But in its shadow there's a pile of discarded material, wild delusions and ulterior motives, which have been supporting the toku series without ever having the chance to actually shine in the open. And now that tremendous chaotic power has finally burst out. Its name is "Hikonin Sentai Akibaranger"!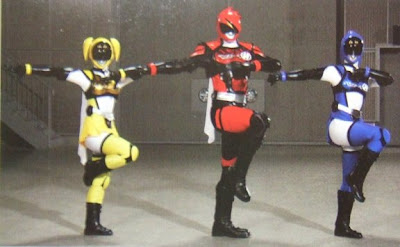 The main characters are three dwellers of the depths of the enthusiast gathering computer district, who inadvertently discovered the wicked existence threatening their town. Armed with the super equipment developed by the achingly beautiful and brilliant professor, they set out to destroy evil and protect their Holy Land of Akiba... Or that's the pretense, anyway.
Adding some new blood and abandoning the taboos and restrictions of the sentai genre, this is a forbidden reverse Sentai series meant for the adult core group. So, good kids, stay away from this show. Got it?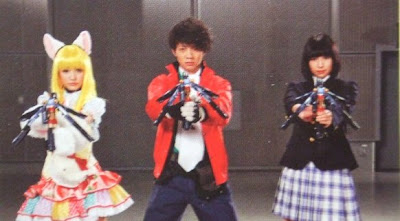 According to reports, there are four main characters in the series:
[*]Red: A boy. Very shy personality, hardcore otaku. Probably DT (in simple terms, a virgin)
[*] Blue: A school girl with a hime haircut.
[*] Yellow: Likely a cosplayer, dons a yellow wig and a nekomimi (cat ears), also wears cat claws.
[*] Professor: Sexy older sister type. Loves pranks and wears glasses.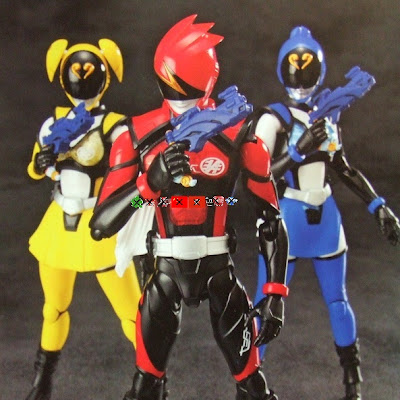 In addition, the latest issue of Figure-Oh Magazine reveals that the Akibarangers will have their own set of S.H. FiguArts! Yes, S.H. FiguArts Akibarangers will be coming soon and that includes their weapon, the MMZ-01 Moe Moe Zukyuun, a blaster type weapon. The team will also have their own personal vehicle that is painted based on the latest moe anime trend.
An event to introduce the Hikonin Sentai Akibaranger will took place on Akihabara this March 31st to April 1st. Event goers will have an exclusive chance to see the first episode of the series (strictly be no under 15 year olds allowed). In addition, whoever is attending the prescreening of Akibaranger at Tamashii Features will receive a "secret gift".
Hikonin Sentai Akibaranger premieres this April 6th on BS Asahi at 1:30am (every Friday) and April 9th on Tokyo MX at 1:00am (every Monday).
credit to bro wide024

[/spoiler]
Spoiler for cast
The Akibarangers is made of: Nobuo Akagi / AkibaRed (Masato Wada), Mizuki Aoyagi / AkibaBlue (Kyoko Nichinan), and Moegi Yumeria / AkibaYellow (Karin Ogino). Professor Hiroyo will be played by Rei Uchida and villain Marushina be played by Honoka.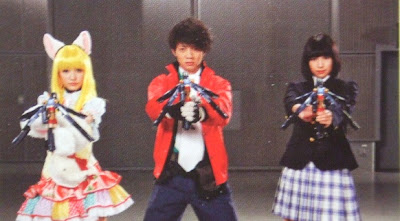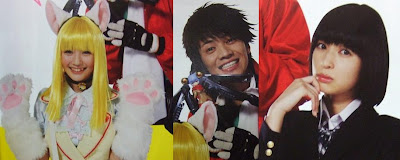 [spoiler=akibared]
akiba red : wada masato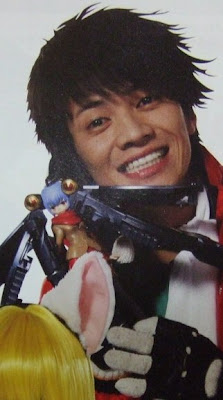 Spoiler for akibayellow
akiba yellow : karin ogino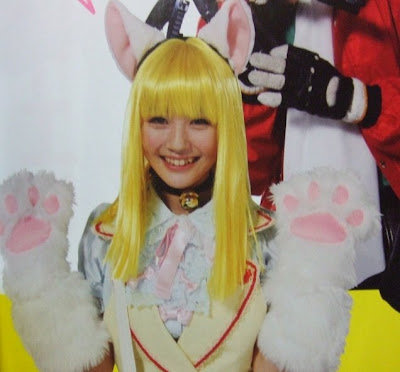 Spoiler for akibablue
[/spoiler]