[TV Series] Last★Resort | By Creator of The Shield | Sept. 25
---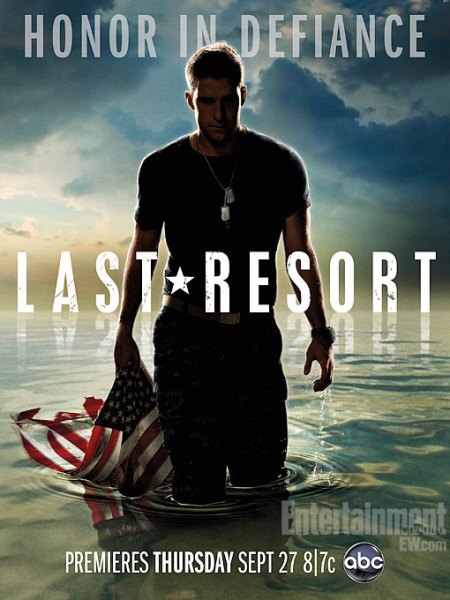 TVRAGE
FACEBOOK
OFFICIAL WEBSITE
Quote:
[CENTER]Classification: Scripted
Genre: Sci-Fi | Thriller
Status: New Series
Network: ABC ( USA)
Airs: Thursdays at 08:00 pm
Runtime: 60 Minutes
Premiere: September, 2012
Episode Order: 13
Quote:
500 feet beneath the ocean's surface, the U.S. ballistic missile submarine Colorado receives their orders. Over a radio channel, designed only to be used if their homeland has been wiped out, they're told to fire nuclear weapons at Pakistan.

Captain Marcus Chaplin (Andre Braugher) demands confirmation of the orders only to be unceremoniously relieved of duty by the White House. XO Sam Kendal (Scott Speedman) finds himself suddenly in charge of the submarine and facing the same difficult decision. When he also refuses to fire without confirmation of the orders, the Colorado is targeted, fired upon, and hit. The submarine and its crew find themselves crippled on the ocean floor, declared rogue enemies of their own country. Now, with nowhere left to turn, Chaplin and Kendal take the sub on the run and bring the men and women of the Colorado to an exotic island. Here they will find refuge, romance and a chance at a new life, even as they try to clear their names and get home.

Last Resort stars Andre Braugher (Men of a Certain Age, Homicide) as Captain Marcus Chaplin, Scott Speedman (The Vow, Felicity) as XO Sam Kendal, Daisy Betts (Sea Patrol) as Lieutenant Grace Shepard, Dichen Lachman (Being Human) as Tani Tumrenjack, Daniel Lissing (Crownies) as SEAL Officer James King, Sahr Ngaujah (House of Payne) as Mayor Julian Serrat, Camille de Pazzis (The First Day of the Rest of Your Life) as Sophie Gerard, Autumn Reeser (Hawaii Five-O, No Ordinary Family) as Kylie Sinclair, Jessy Schram (Falling Skies, Once Upon a Time) as Christine Kendal and Robert Patrick (The Gangster Squad, The Unit) as Master Chief Joseph Prosser.

Last Resort was created by Shawn Ryan (The Shield, The Unit, The Chicago Code) and Karl Gajdusek (Trespass, Dead Like Me), who, along with Marney Hochman (The Chicago Code, Terriers) serve as executive producers for the pilot and series. The pilot for Last Resort was also executive produced and directed by Martin Campbell (Green Lantern, Casino Royale). Last Resort is produced by Middkid Productions in association with Sony Pictures Television.
[youtube]IKwl6f4yFIs[/youtube][/CENTER]