Superman pernah botak dan jahat gan!
---
Ini thread pertama ane gan..
semoga gak

dan salah kamar.
Enjoy gan!!!
Spoiler for cekidot
Jerry Siegel and Joe Shuster first created a bald telepathic villain bent on dominating the entire world. He appeared in the short story "The Reign of the Super-Man" from Science Fiction #3, a science fiction fanzine that Siegel published in 1933. Siegel re-wrote the character in 1933 as a hero, bearing little or no resemblance to his villainous namesake, modeling the hero on Douglas Fairbanks Sr. and his bespectacled alter ego, Clark Kent, on Harold Lloyd. Siegel and Shuster then began a six-year quest to find a publisher. Titling it The Superman, Siegel and Shuster offered it to Consolidated Book Publishing, who had published a 48-page black-and-white comic book entitled Detective Dan: Secret Operative No. 48. Although the duo received an encouraging letter, Consolidated never again published comic books. Shuster took this to heart and burned all pages of the story, the cover surviving only because Siegel rescued it from the fire. Siegel and Shuster each compared this character to Slam Bradley, an adventurer the pair had created for Detective Comics #1 (May 1939).

Siegel contacted other artists to collaborate on the strip, according to Gerard Jones feeling that "Superman was going nowhere with Joe". Tony Strobl, Mel Graff and Russell Keaton were all contacted as potential collaborators by Siegel. Artwork produced by Keaton based on Siegel's treatment shows the concept evolving. Superman is now sent back in time as a baby by the last man on Earth, where he is found and raised by Sam and Molly Kent. However Keaton did not pursue the collaboration, and soon Siegel and Shuster were back working together on the character.

The pair re-envisioned the character, who became more of a hero in the mythic tradition, inspired by such characters as Samson and Hercules, who would right the wrongs of Siegel and Shuster's times, fighting for social justice and against tyranny. It was at this stage the costume was introduced, Siegel later recalling that they created a "kind of costume and let's give him a big S on his chest, and a cape, make him as colorful as we can and as distinctive as we can." The design was based in part on the costumes worn by characters in outer space settings published in pulp magazines, as well as comic strips such as Flash Gordon, and also partly suggested by the traditional circus strong-man outfit. However, the cape has been noted as being markedly different from the Victorian tradition. Gary Engle described it as without "precedent in popular culture" in Superman at Fifty: The Persistence of a Legend. The circus performer's shorts-over-tights outfit was soon established as the basis for many future superhero outfits. This third version of the character was given extraordinary abilities, although this time of a physical nature as opposed to the mental abilities of the villainous Superman.
The locale and the hero's civilian names were inspired by the movies, Shuster said in 1983. "Jerry created all the names. We were great movie fans, and were inspired a lot by the actors and actresses we saw. As for Clark Kent, he combined the names of Clark Gable and Kent Taylor. And Metropolis, the city in which Superman operated, came from the Fritz Lang movie [Metropolis, 1927], which we both loved".
Although they were by now selling material to comic book publishers, notably Malcolm Wheeler-Nicholson's National Allied Publishing, the pair decided to feature this character in a comic strip format, rather than in the longer comic book story format that was establishing itself at this time. They offered it to both Max Gaines, who passed, and to United Feature Syndicate, who expressed interest initially but finally rejected the strip in a letter dated February 18, 1937. However, in what historian Les Daniels describes as "an incredibly convoluted turn of events", Max Gaines ended up positioning the strip as the lead feature in Wheeler-Nicholson's new publication, Action Comics. Vin Sullivan, editor of the new book, wrote to the pair requesting that the comic strips be refashioned to suit the comic book format, requesting "eight panels a page". However Siegel and Shuster ignored this, utilizing their own experience and ideas to create page layouts, with Siegel also identifying the image used for the cover of Action Comics #1 (June 1938), Superman's first appearance.

Siegel may have been inspired to create the Superman character due to the death of his father. Mitchell Siegel was an immigrant who owned a clothing store on New York's Lower East Side. He died during a robbery attempt in 1932, a year before Superman was created. Although Siegel never mentioned the death of his father in interviews, both Gerard Jones and Brad Meltzer believe it must have affected him. "It had to have an effect," says Jones. "There's a connection there: the loss of a dad as a source for Superman." Meltzer states: "Your father dies in a robbery, and you invent a bulletproof man who becomes the world's greatest hero. I'm sorry, but there's a story there."
Spoiler for cekidot
Karakter awal Superman
"The Reign of the Super-Man" dalam majalah Science Fiction, Vol. 1, No.3 (Juni 1933).

Ketika Jerry Siegel dan Joe Shuster pertama kali membuat Superman, bukanlah seorang superhero yang selalu membantu manusia lain, tetapi seorang psikopat botak jenius dengan kekuatan telepati yang hendak menguasai seluruh dunia. Ia muncul pada cerita pendek yang berjudul "The Reign of the Super-Man" dari Science Fiction #3, sebuah majalah yang diterbitkan oleh Siegel pada tahun 1933. Karena tidak lakunya karakter ini, pada akhirnya "Superman Botak" itu pun kemudian ditulis ulang oleh Siegel ditahun 1933 sebagai seorang pahlawan, menciptakan sedikit atau tak ada kemiripan dengan karakter jahat sebelumnya, mengambil seseorang untuk dijadikan pahlawan yaitu Douglas Fairbanks Sr. dan alter egonya Clark Kent, pada Harold Lloyd. Superman botak dan jahat kemudian menjadi seorang musuh utama Superman yang bernama Lex Luthor.

Perubahan karakter Superman

Seperti diceritakan dalam Action Comics #1, Superman lahir di planet Krypton dengan nama Kal-El, dan ketika masih bayi diluncurkan dengan roket ke Bumi oleh ayahnya, Jor-El, sesaat sebelum planet itu hancur. Roket kemudian mendarat di Bumi, di sebuah ladang, yang ditemukan oleh pasangan Kent, Jonathan Kent dan Martha Kent, yang kemudian mengadopsinya dan diberi nama Clark Kent. Sebagai seorang anak yang sedang tumbuh, ia menemukan bahwa ia menguasai kekuatan yang jauh diatas manusia biasa dan menggunakan kekuatannya untuk menolong orang lain. Untuk menyembunyikan rahasia identitasnya saat tidak sedang berhadapan dengan penjahat sebagai seorang Superman, ia hidup sebagai Clark Kent, manusia biasa yang berwatak halus, seorang reporter The Daily Star (kemudian berganti nama menjadi The Daily Planet). Clark bekerja bersama reporter Lois Lane, dan terlibat kisah asmara dengannya, dan diceritakan menikah dalam lanjutan kisah komiknya.
Spoiler for gambar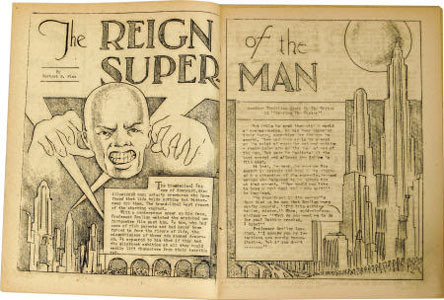 gimana gan?
kalo

jangan

dan

klo berkenan boleh

atau