501st
- 01/03/2010 07:34 PM
#1
(Rare grim pics) SOVIET BRUTALITY in occupied Germany (WARNING)
---
THE RAPE OF GERMANY WOMEN
Soviet soldiers were guided by the call: "to crush by force the racial arrogance of the German women! Take them as deserved trophy! "
These mass rapes were one of the greatest crimes against women throughout history. Rapists were mainly Red Army soldiers, many of them - non-white soldiers from the Asian republics of the Soviet Union.. . They certainly behaved like animals, but they had official sanction. The European women of those nations that had been allies of Nazi Germany were targeted too.
Millions of women victims raped by Russian soldiers during the last months of World War II. Anthony Beevor's book "Berlin -- The Downfall 1945" documents rape by Russian soldiers. "Beevor's conclusions are that in response to the vast scale of casualties inflicted on them by the Germans the Soviets responded in kind, and that included rape on a vast scale. It started as soon as the Red Army entered East Prussia and Silesia in 1944, and in many towns and villages every female aged from 10 to 80 was raped." The author "was 'shaken to the core' to discover that even their own Russian and Polish women and girls liberated from German concentration camps were also violated." Until recent years, East German women from the World War II era referred to the Red Army war memorial in Berlin as "the Tomb of the Unknown Rapist."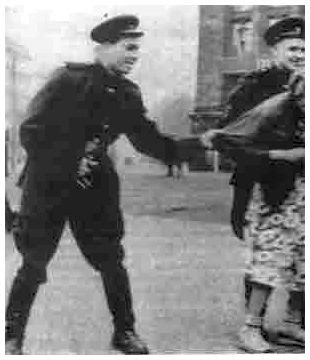 A soviet officer smiled as he and his companion dragged the scared lady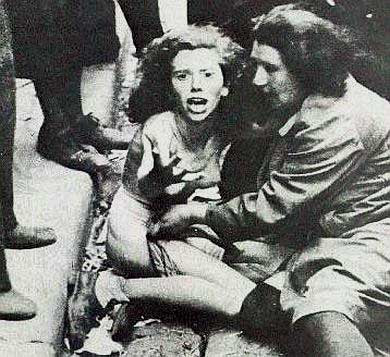 Victim of the Reds brutality, she cried hysterically as one of the women try to put her clothes back. The Soviet army turned their thirst for vengeance from German Army to these women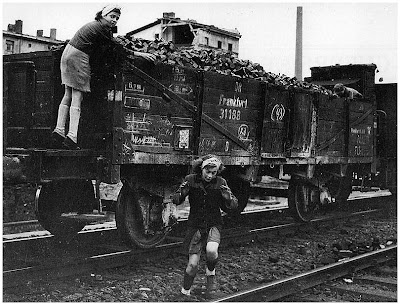 These young ladies run away as the Soviet Army approaching, sadly, they have nowhere to run...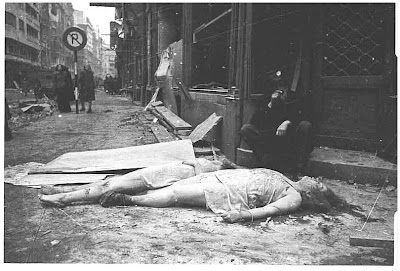 These german women was shot to death, but not before the Soviet had their fun. Notice that they were naked. Also notice the other people in these pictures wear warmer cloth.
March 24, 1945, the Soviet army entered Danzig. A 50-year-old Danzig teacher reported that her niece, aged 15, was raped seven times, and another niece, 22 years old, was raped fifteen times. A Soviet officer told a group of women to seek refuge in the cathedral. When they gathered there, the Soviet soldiers went in and accompanied with the sounds of bells and organ, "celebrated" foul orgy through the night raping the women, some more than thirty times. A Catholic pastor in Danzig, testified: "They raped even 8-year-old girls, and killed those boys who tried to shield their mothers." His Eminence Archbishop Bernard Griffin, British (Bernard Griffin) who toured Europe, reported: "In Vienna alone they raped 100 000 women, not once but many times, including 10 year old girls and old women."
A day after the capture of Neisse, Silesia, Soviet troops raped 182 Catholic nuns. In one of the convents the Mother Superior and her assistant were shot dead, when they they tried to protect young nuns. In the journal "North America" (Nord Amerika) from 1 November 1945, one priest reported that he knew "several villages where all the women, even elderly women and girls of twelve years, were raped by Soviet soldiers for several weeks."
A RED DAY FOR THE GERMANS
The Soviet was also brutal. They let loose on the German people, they thirst of vengeance turned into a thirst for killing. Men became animal. You know what they said, We are all animal beneath the skin. The only thing that keep us apart from the animal is our will to contained the animal inside us. Man is an animal. Sometimes he hunts alone. Sometimes in a pack. Sometimes he is hunted.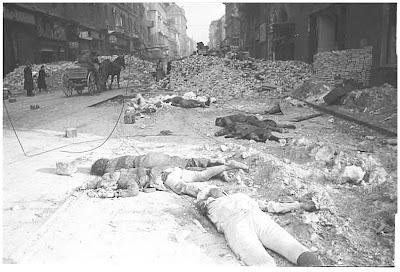 Innocent civilians was killed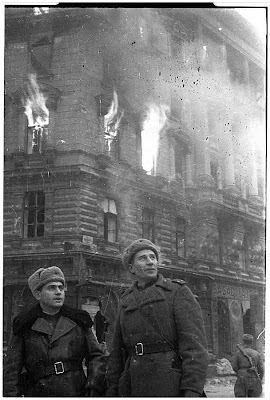 As the German was once plundered and burned down Russian villages, the Russian did the same to the Germans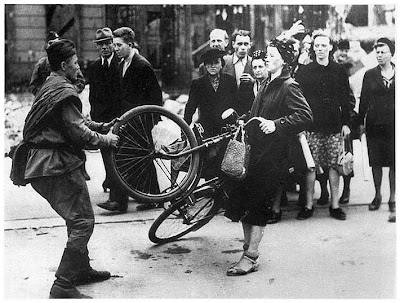 A picture of Soviet soldier try to take a bike off an old women
These women preferred to commit suicide then to fall into the hands of victors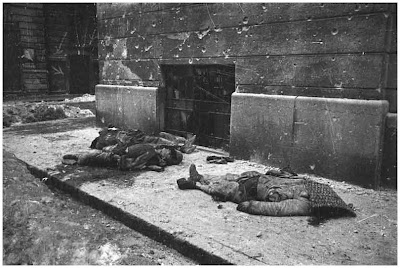 Dead on the streets
Semoga bisa menambah pengetahuan kita saja...dan PLEASE NO SARA
jangan lupakan