~ Post-Rock & Experimental Music ~ | Brotherhood of The Traveling DVD
---
Welcome to Postrockerz, visitors!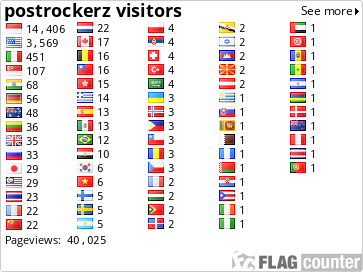 Banyak yang bertanya Post Rock itu apa ? musiknya bagaimana ? ciri2nya ? dsb. Disini saya ingin mencoba menjelaskan secara singkat definisi, karakteristik, sejarah, dan perkembangan dari musik Post Rock.
----------------------------------------------------------
Istilah Post Rock pertama kali di ciptakan oleh Simon Reynolds waktu dia review album'nya Bark Psychosis - Hex tahun 1994, yang pada waktu itu definisinya " Memainkan musik bukan rock dengan instrumen2 rock, dan lebih mengutamakan texture dan timbre daripada power chord" kenapa saya bilang "waktu itu"? karena Post Rock sekarang ini (modern) sudah berubah atau berinovasi dari definisi awalnya, bahkan bertolak belakang.
Generasi pertama :
Band2 seperti Tortoise, Bark Psychosis, Talk Talk, Cul de Sac, Slint, Flying Saucer merupakan band2 generasi pertama yang sesuai dengan apa yang didefinisikan Simon Reynolds, "Memainkan musik bukan rock dengan instrumen2 rock" dengan memasukkan unsur2 yg berbeda dari masing2 band, ada yang electronica, ambient, jazz, dll
Generasi kedua :
tahun 96 - 97, lahir sebuah band bernama Mogwai yang memainkan musik instrumental rock. Anehnya, Mogwai disebut band Post Rock juga. Yang kenyataannya musik mereka berbeda dari apa yang sudah didefinisikan oleh Simon Reynolds. Mogwai sendiri mengakui hal ini dan tidak suka dibilang post rock
"Aitchison isn't all grins, however, when asked how he feels about the term post-rock. Mogwai has been lumped into this supposed genre of music by unimaginative music critics. "It's kind of a stupid term, it doesn't really make much sense. I don't know, it seems really pretentious to me. A lot of the bands are described as being post rock. You get bands like Tortoise, we're nothing like Tortoise, we're completely different. So it's a pretty vague term. It's a pretty lazy term, lazy on the media's front. They don't really know what sort of music it is. If it's not straight-ahead rock n' roll, then it's post rock. It's a bit miserable, so we'll call it post rock. It's stupid." Sumber
Alas...walaupun begitu, Mogwai merupakan salah satu template untuk band2 Post Rock sekarang. Konsep Quite/Loud yang mereka pakai sudah menjadi formula/dasar dari musik2 Post Rock sekarang. Begitu juga dengan the legendary Godspeed You! Black Emperor, yang menetapkan formula Crescendo, Chamber music ke Post Rock modern.
Post Rock Re-invent :
jadi definisi Post Rock sudah berubah total dari sebelumnya, yang tidak ada rock menjadi ada, dan riff dan chord juga sering dipakai. Post Rock sekarang ini memakai formula Quiet/Loud, Build up Crescendo, dan jarang sekali memakai verse-chorus-verse, biasanya musiknya build up momentum yang diakhiri dengan klimaks.
Menariknya, Formula ini hanyalah sebagai dasar komposisi. sehingga banyak band2 baru yang mengintegrasikan unsur2 classical, jazz, electronica, math, metal, dll. Yang akhirnya Post Rock semakin diverse dan terbentuk sub2 genre didalamnya. Tetapi tetap menggunakan formula dasar. Dan Post Rock bukan berarti instrumental, banyak juga yg memakai vokal. Baik yang dijadikan suatu instrumen atau pure vokal
Ada delapan band yang menurut saya sebagai pondasi dan mengembangkan/meluaskan essensi dari Post Rock :
Mogwai : Quite/loud
Godspeed You! Black Emperor : Crescendo
A Silver Mt Zion : Cinematic
Do Make Say Think : Jazz
Explosions in The Sky : Twinkle Guitar
Mono (japan) : Texture Guitar
Sigur Ros : Ambient Soundscape
Rachel's : Classical
Dan beberapa band modern yang memasukkan unsur2 baru ke dalam Post Rock :
65Daysofstatic : Electronica, Math Rock
Samuel jackson Five : Jazz, Krautrock
Russian Circles : a blend between Post Rock and Post Metal
Destroyalldreamers : Shoegaze
Hammock : Ambient Drone
Dengan kata lain, post-rock itu bukan style sih tp basic, base, pondasi ato template juga bisa. Kalo murni, pure post rock sebenernya ga ada karena emang ga bisa diaplikasiin. kalo bikin musik pure post rock yg ada hambar, ngebosenin. Di post rock term yg dipake itu originality, tapi ini ga berhubungan ama jaman tortoise ama yg laen.
Tahun 1999 - 2003 : Ini tahun dimana post rock modern itu di definisiin, founding fathers'nya sebenernya dua band, Mogwai sama GY!BE. dua band ini yg bener" nge set post rock itu kyk gimana. abis itu baru muncul Mono, EITS, sigur ros juga dengan album () yg ngelengkapin post rock itu kyk gimana. sebenernya ditaun segitu masih ada band laen yg dah muncul misalnya tristeza, emery reel cuman ga terlalu signifikan effectnya. jadi semua band post rock yg ada sekarang ngambil essensi post rock dari band" yg gue sebutin diatas. makanya ada band yg ambil jalur eits ato jalur gy!be ato mogwai dsb. bisa dibilang band post rock yg "pure", "original" ya mereka" ini.
Tahun 2004 - 2008 : Tahun ini mulai pergerakan baru, band" baru dah berani ambil style yg berbeda, dah ngga ngikut ama yg taun sebelumnya tp basic post rock masih dipegang. contoh : 65 dos ngambil jalur electro glitch campur math rock. hammock yg bener" exploitasi ambient di post rocknya. ada juga yg nyampur eits ama mogwai kayak caspian, explorasi ke jazz, krautrock kyk samuel jackson five, blending post metal ama post rock di russian circle. ditaun ini udah makin berkembang lagi jalurnya. tp masih ada yg tetep setia ama "originality" jalur GY!BE bahkan dikembangin lagi kayak Yndi Halda, ascent of everest. ato "originality" jalur EiTS kayak followed by ghost.
Kuliah singkat bersama Prof. DR. Mory von Achilles
materi kuliah :
Post-Classical
Spoiler for Post-Classical
Contact Info Postrockerz :
Post-Rock & Experimental Music Sampler :
rayculz's sampler | vol.01
rayculz's sampler | vol.02